Firefighters turn out to honor fallen colleague
By JORDAN DRACKLEY, Courier Staff Writer
FAIRBANK - The number of mourners at Jim Richards' funeral Thursday likely broke the church's fire code.

But given the number of firefighters in attendance, it seemed those who gathered were in good hands.

"God's going to take care of us," said a representative from the State Fire Marshal's office, Jeff Quigle, from the back of Immaculate Conception Catholic Church in Fairbank.
The firefighters were there to pay respects to one of their own.

Richards, Oran's assistant fire chief, died Monday while fighting a field fire west of his hometown. Officials believe he died of a heart attack while operating the pumper truck, which supplied water to fight the blaze. He was 49.

The pews and folding chairs at his memorial were filled to capacity. Young people from Wapsie Valley High School, classmates of Richards' children, Jessica and Joshua, sat in silent support.

Firefighters from across the state in matching polo shirts, uniforms and blazers stood, lining church walls. More friends and family were tucked in corners and clustered in doorways.

The people who came were the most important part of Richards' life, said family member Jim Wade.

"Jim has always put his family and community on top," Wade said, reading a message from Richards' wife, Jean. "He loved his fellow firemen and first responders ... I never remember him turning anyone down."

Richards was an active member of the fire department for 30 years, serving as assistant chief since 1985. He operated Richards Repair Service in Oran for almost 30 years.

The Rev. Ken Stecher said Richards was a model and image of goodness.

"He ended his life in service to others," he said.

At the end of the ceremony, Richards' family was presented with his fireman's gear. Oran firefighters, carrying their colleague's equipment, then led the body out of the church. The coat, helmet, pants and boots were later displayed at the burial site.

Solemn thoughts but good memories spilled from attendees as they filtered out of the church.

"He was everybody's friend," said Delores Matthias, a family friend from Frederika.

"He was always willing to go ahead and help," her husband, Elmer, added.

The procession to the cemetery was led by an Oran fire truck, which carried Richards' body. Fire trucks from the Fairbank, Readlyn, Westgate, Sumner and Oelwein departments followed.

The Grundy County Fire Association honor guard performed a special ceremony at the burial. Following tradition, a bell was struck in four sets of five to commemorate a firefighter who has died in the line of duty.

The last chime reverberated.

Roger Carr, a member of the Grundy County honor guard, spoke of this firefighter who answered his final call.

"James Richards ... has completed his assignment and returned home."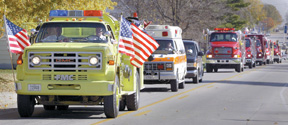 RICK CHASE / Courier Staff Photographer The casket of firefighter Jim Richards was carried by an Oran fire truck Thursday in Fairbank. Other fire and rescue vehicles from Northeast Iowa followed in the procession from Immaculate Conception Catholic Church to the cemetery.
---
ANNOUNCEMENT FROM THE U.S. FIRE ADMINISTRATION
http://www.usfa.fema.gov
Richards, James
Age:
49
Cause of Death:
Stress/Exertion
Rank:
Assistant Fire Chief
Nature of Death:
Heart Attack
Status:
Volunteer
Emergency Duty:
Yes
Incident Date:
10/21/2003
Duty Type:
Fireground Operations
Incident Time:
16:00
Activity Type:
Water Supply
Death Date:
10/21/2003
Fixed Prop. Use:
Outdoor Property
Fire Dept. Info:
Oran Fire Department
5054 Main Street
Oran , Iowa 50664
Chief: Larry Wedemier

Initial Summary:
Assistant Fire Chief Richards succumbed to a heart attack while fighting a grass fire in rural Bremer County.
Memorial Fund Info:
Donations can be sent to the Oran Fire Department, 5054 Main Street, Oran, IA 50664.